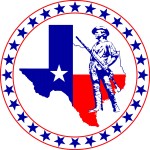 Welcome to the PineyWoods Chapter #51, Texas Society Sons of the American Revolution page.
The PineyWoods Chapter #51 was chartered on February 3, 1994, and is named for its geographic location in the state. We draw members from Houston (S) to Livingston (N) and from The Woodlands (W) to Liberty (E). If you are an SAR Compatriot or prospective member in this area, we invite you to visit with us and consider joining our chapter to further your interest in our Patriotic, Historic, and Educational activities. Information on chapter contacts can be found on our Officers page and meeting schedules can be found on our Meetings page.
The PineyWoods Chapter is active in the areas of Color Guard, with numerous appearances at TXSSAR State Conferences and Board of Managers meetings, SAR National Conferences, joint meetings with other SAR and DAR chapters, Grave Marking Ceremonies, Naturalization ceremonies, parades, and local school events. The PineyWoods Chapter has marked four patriot graves within the last 5 years: Owen Shannon, Zachariah Landrum, Henry Bailey Greenwood, and Thomas C. Holmes, and has assisted with several others.
The Chapter also participates in the JROTC program, sponsoring at least 26 schools each year with personal presentations of the SAR JROTC medal and certificate (our 2007 sponsored JROTC Enhanced Cadet won 2nd place in the NSSAR contest), the Eagle Scout Award program (our 2004 sponsored Eagle Scout won 2nd place in the NSSAR contest), the Knight Historical Essay Contest, and the James Looney Elementary School Poster Contest. The Chapter also makes annual presentations of the Fire Safety Commendation Medal and the Law Enforcement Medal to deserving persons who serve our area.

2019-2020 Officers L to R
Larry G. Stevens, Ben Baskin, B. Ray Mize, Brent Monteleone, Jim Pinkerton, President Kermit Breed, Alan Bowman, Bernie Kent, David Cook, Joe Potter, Buddy Inman
Not present—Abe Abdmoulaie and Kim Morton.