Battle of Medina Commemoration
Click for map of Battle of Medina site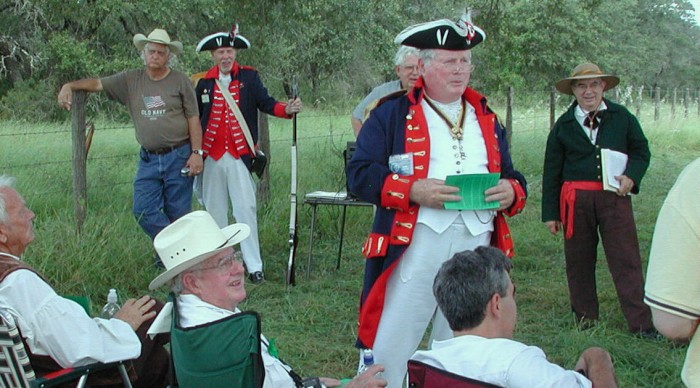 198th Anniversary of the Bloodiest Battle in Texas History
Everyone is invited to attend the 17th annual ceremony and symposium commemorating the Battle of Medina, "the bloodiest battle in Texas history". The Battle of Medina occurred on August 18, 1813 between the Royal Spanish Army and the Republican Army of the North. Between 800 and 1,300 Americans, Tejanos, Native Americans, and Spanish soldiers died in this battle.
Beginning at 10:00am on Saturday, August 19, 2017, a commemorative ceremony will be held under the large oak trees on Old Applewhite Road, near where it intersects with Bruce Road. A Color Guard will present flags from the countries involved.  Members of the National Society of the Daughters of the American Revolution will re-dedicate a plague to honor those American Patriots of the American Revolution who died in the battle, and descendants of Peter Sides, American Patriot will honor his service. Wreaths will be laid by the DAR, DRT, Daughters of the War of 1812. Other organizations expected to participate are the SRT, SAR, and the Mayflower Society.
At 1:00pm a seminar discussing the Battle of Medina will be held at the ATASCOSA COUNTY LEMING ANNEX (old Leming School).  Opening remarks will be given by Lila Rakoczy, Ph. D., Program Coordinator, Texas Historical Commission and Robert H. Thonhoff, former President of the Texas State Historical Association, author and former Karnes County Judge.
SPEAKERS at the symposium include:
Jo Anne Gonzales Murphy, MS-Psych, ABD(PHD)
Al McGraw, Archaeologist, TxDot Enviromental Affairs Division (retired)
Jose "Joe" Lopez, author, founder of Tejano Learning Center, LLC.
Dr. Ana Caroline Castillo Crimm, Professor Emeritus, Sam Houston State University
Dr. Amy Porter, Associate Prof. of History, Texas A&M San Antonio
Dan Arellano, President, Battle of Medina Society
James Bernsen, MA History, Southwest Texas State University
Brian Stauffer, Spanish Translator, Texas General Land Office
Historical re-enactors Eric Morrell and Mike Reynolds, along with others, will set up a historically accurate 1813 camp.
Exhibitors will be present selling books, maps, postcards, and other Texas history memorabilia.
Including: Order of Grenaderos y Damas de Galvez, Canary Islands Descendants Association, Jesse Villareal and more.