Texas SAR Dr. Robert S. and Dr. Jane Watkins Cohen 4-H Award
SAR wants to encourage outstanding young people to be more aware of the Sons of the American Revolution (SAR). SAR is a patriotic, historical, and educational non-profit corporation, United States 501(c)3, that seeks to maintain and extend the institutions of American freedom, an appreciation for true patriotism, a respect for our national symbols, the value of American citizenship, and the unifying force of e pluribus unum.
This SAR Award is for a $1000 scholarship or $500 cash award for the state winner of the 4-H Public Speaking Contest at the summer 4-H Roundup at Texas A&M University. Participants must follow 4-H requirements to enter Texas 4-H Roundup.
4-H Roundup contests encourage 4-H members to compete at county, district, and state levels. Educational presentations on a wide variety of subjects may be presented. Preparing for and participating in contests helps members expand their educational experiences and learn to plan, make decisions, acquire information and skills, and develop self-confidence. The subject should fit the 4-H member's interests, experience, knowledge, and skills. It should be exciting and challenging, not routine. 4-H projects provide excellent ideas.
For information please contact:
Dr. Robert or Dr. Jane Cohen at Cohen4-H@texassar.org
Pictured is the 2018 award winner, contest Superintendent, and SAR members (in uniform).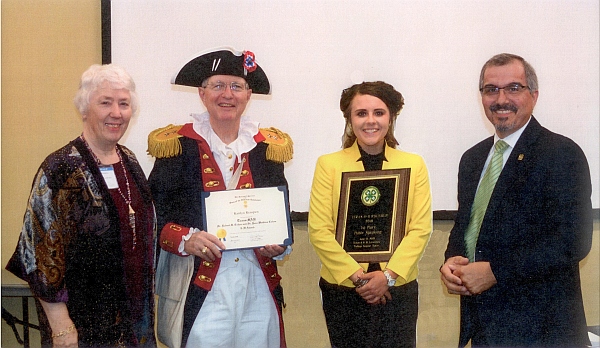 Below is is the original (2017) award winner, contest Superintendent, and SAR members (in uniform).