Welcome to the East Fork Trinity Chapter SAR
---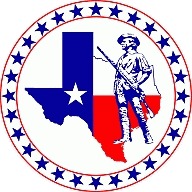 Our meetings are held on the
Second Thursday
Monthly at 7:00 p.m.
(if eating, seating starts 1 hour earlier)

We meet at:
IHOP
701 I-30
Mesquite, TX 75150
(Dress code: Business Casual or Colonial Attire)

From President Michael Goode: Our Chapter serves the cities of Fate, Forney, Garland, Heath, McLendon-Chisholm, Mesquite, Rockwall, Rowlett, Royce City, Sunnyvale, and Terrell, Texas.

To become a member of the East Fork - Trinity Chapter, download and fill out an application; then, contact the chapter's registrar, David Powell.
When we assumed the Soldier, we did not lay aside the Citizen; and we shall most sincerely rejoice with you in that happy hour when the establishment of American Liberty, upon the most firm and solid foundations, shall enable us to return to our Private Stations in the bosom of a free, peaceful and happy Country.
George Washington

Open to Chapter and visiting Compatriots, prospective member candidates, and guests. Candidates should select our "Membership" menu "Joining Info" link for more information. All guests are welcome!